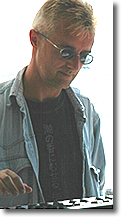 Chris Le Blanc was born in a small town in the southwest of Germany and began playing classical piano at the age of 7.

He joined his first band at the age of 14, and in 1977 he founded a small studio. Under the name Astrodyne he produced two electronic albums which were in a similar style to Vangelis and Jean Michel Jarre.

After this musical venture he started studying music and sound engineering in Duesseldorf. After successsfully obtaining his diploma in 1989, he moved to Munich and became one of Germanys most sought after programmers and arrangers.

He has worked with artists such as Muenchener Freiheit and Maggie Reilly ( Mike Oldfield's former singer ) on her first solo album. In 1993, he joined the extremely successful Haddaway production team in Cologne, where he worked on Haddaway`s first two albums which included world wide hits like "What is Love", "Life", "Rock My Heart" and "Fly Away". Together with Producer/Engineer Gary Jones, he did remixes for the Pet Shop Boys, Thalia, Carlos Ponce, Bananarama and Bizarre Inc. They also produced acts like Thea Austin ( former singer of Snap ) Kami & Purple Schulz which reached top chart positions in the late 90´s Beside his pop productions and remixes, Chris started to write film scores for German television ( ARD, ZDF and Bavaria Film ).


In 2002, he moved with his family to Ibiza, as he was fascinated by the multicultural environment and the spiritual background of the island. He was also inspired by the vital club scene and the various musical influences from all over the world. He started several projects on this magical island, such as · Sunyata Project ( together with Roberto Sol ) · Sangre De La Tierra ( together with Miguel Iven ) · Ocean Deep ( together with Ingmar Hansch from Movin Sounds Ibiza ) · L'Art Mystique ( together with Miyabi Sudo ). These acts appear on many compilations like · Greenheart Vol I,II,III · Playa Azul, Flamenco Chill Vol I · Aphrodissimo Vol II · Red Carpet Vol I · KLASSIK.LOUNGE Werk III. As Chris Le Blanc, he appears on compilations like · "Café Del Mar", "Erotic Lounge"·, "KM5 2004", "KM5 2005" · and "Red Carpet ".


He also works with DJs, artists and producers from Ibiza, Munich and London on several House- and Loungeprojects, e.g. Miss Luna ( appeared on "Islands" Vol I – mixed by Paul Lomax and also on KM5 2004,2005 ). Among other producers like Xavier Naidoo he has arranged and produced with redLama from Downtown studios in Munich a track for the Yvonne Catterfeld album "Farben Meiner Welt" which reached Gold status in 2005. Chris also compiles limited edition CDs for special locations and companies like · Madrigal ( Ibiza ) · Atzaro ( Ibiza ) · Tiburon ( Formentera ) · Jades ( Duesseldorf ) · Hadi Teherani ( Hamburg ) He still continues to write filmscores and commercials, and has recently written scores for BMW and Porsche, and this year he writes the score for a german telenovela together with producer / composer Axel Kroell ( Wet Wet Wet, Blow Monkeys, Grandmaster Flash ).